Marble by
Edward Hodges Baily, 1826.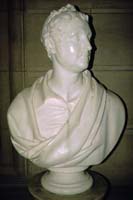 The late Victorian and Edwardian sections of the British School are well represented in the collection. During these times sculptors from all over the country came to Glasgow, where they were commissioned to provide sculptures for the many ornate new buildings being erected in the city.
The finest work in the British collection is the statue William Pitt by John Flaxman (1755-1826), commissioned by the people of Glasgow for the old Town Hall in 1812.
The English New Sculpture movement of the 1880s is also well represented in the collection. This movement was inspired by Renaissance sculptors such as Donatello and Michelangelo. Works by Harry Bates, Alfred Drury, George Frampton, Alfred Gilbert and Derwent Wood are included in the collection.